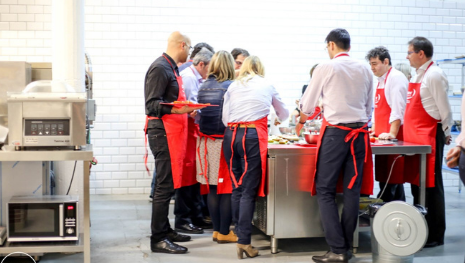 Gastronomic team building, the most exquisite way to motivate your team
Cooking transports us to a comfortable and familiar environment.
The feeling of belonging to the company is something purely emotional.
To feed it, we must get away from the everyday environment and the four usual walls and enter an environment that facilitates creating a state of trust, relaxation, of being oneself.
Useful for: Times of change in the company or before a work rush where an extra push will be necessary. Also as an original way to change the typical summer or Christmas dinner in which you only talk to the two people who touch you next to you.
Culinary Team building activities, in addition to provide a meeting place and encounter between the participants, constitute in themselves an opportunity to deploy all our resources : from work planning to healthy competitiveness or group cohesion.
Companies or teams that have gone through a difficult time.
It's a lot of fun: If the class is well conducted, time flies by, you have a good time, you discover new things about your classmates, and we all humanize and de-stress, including the managers. Useful for everything : but especially for discouraged teams and for companies that have gone through or are going through a difficult time.
Do you need inspiration?
Do you want us to prepare a proposal for your celebration or business activity?